Meeting 22/06/2002 (23/12/08 )
---
Organised by RSSOC in the Netherlands
---
We subscribed very late :Wim Deinum had some vacancies because other members cancelled and could provide extra rooms for the Belgians.
Friday June 21 we arrived at Jan and Riet's in Apeldoorn. Almost thirty years ago we visited our Apeldoorn(ian?) friends with our Sabra and this
meeting was the first time we could renew the visit, have a nice chat and nice fondue.
Saturday 10 o'clock we presented ourselves at the Tulip Inn. You need large car parks for these meetings.
Let's take a stroll and look at the cars because many of our friends are here.
Got the roadbook (They've made a good job of it!!) First page: a song?.. are we to sing? No it's just one of the questions... wrong.
A little cheating: the cars were supposed to start according to their starting number, but us Belgians (Michelle - Jacques, Leo - Marleen, Jef -
Els) would rather go together so we waited for each other.
Nice tour, showing us every bit of the only hill that is to be found in the Netherlands, narrow roads, nice tests, biking, wooden shoes, the one-and-only Dutch hairpin. No wonder there's no hill-climbing competition round here. It would be boring with only one hill!
In Belgium there's a man-made one (made by the Dutch), but the road up is much too narrow for cars (Waterloo).
This is the first time our Sabra has crossed a river by ferry (We don't count Zeebruges-Dover).
We skipped the lunch and had a picnic.
A stop with a mill is mandatory (we wonder why, the invention is Mediterranean and the technology is Belgian, indeed they still have lots of them). The names on the sheet are cars, not cocktails!
The buffet was indeed copious - with various choices; now I understand why the English like to come to the continent. Why do these meetings only last a weekend?
The Pallasch-brothers were number one again. Michelle Vandevelde won the trophy for the best female driver. Congratulations, but nobody seems to have noticed how often I had to warn her about turning off the indicator lights.
But then it's brave to drive in a Sabra with the owner on the passengers' seat!
Geoff Eldridge asked our little team of Belgians if we would be interested in organising next years meeting, on condition that we gave the Pallasch brothers a different roadbook!
The evening continued very comfortably with drinks and chatting in the bar
Sunday morning: English breakfast (they drive on the wrong side, they have weird threads, like UNC and UNF, and crazy mechanics but if they're good at something - let's appreciate them). Up to "Het Loo", nice uniforms, nice carriages, nice cars, nice gardens.
Back to Antwerp; hood open, nice weekend, learned a lot, seen a lot, nice time.
We had clogs, bikes, mills and cheese (for the pictures).
Jozef Neefs
And the pictures
---
On a ferry...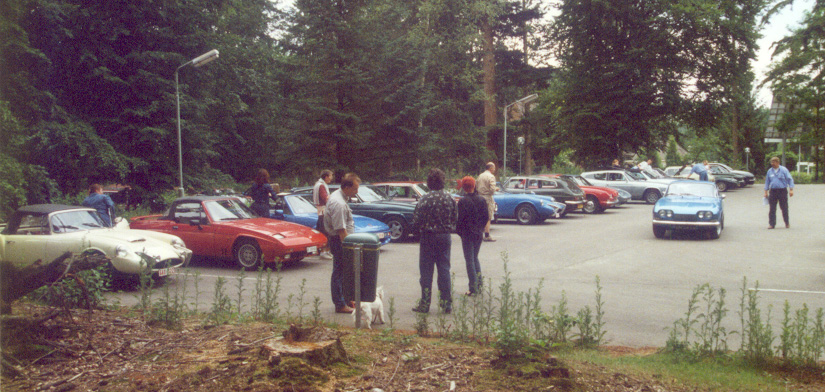 Long time no see
huge parking place
Ditmar Dirks wonderfull car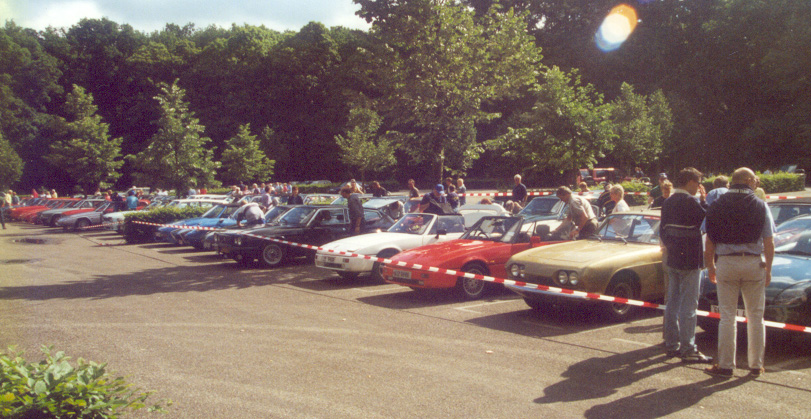 "Het Loo" - the loo?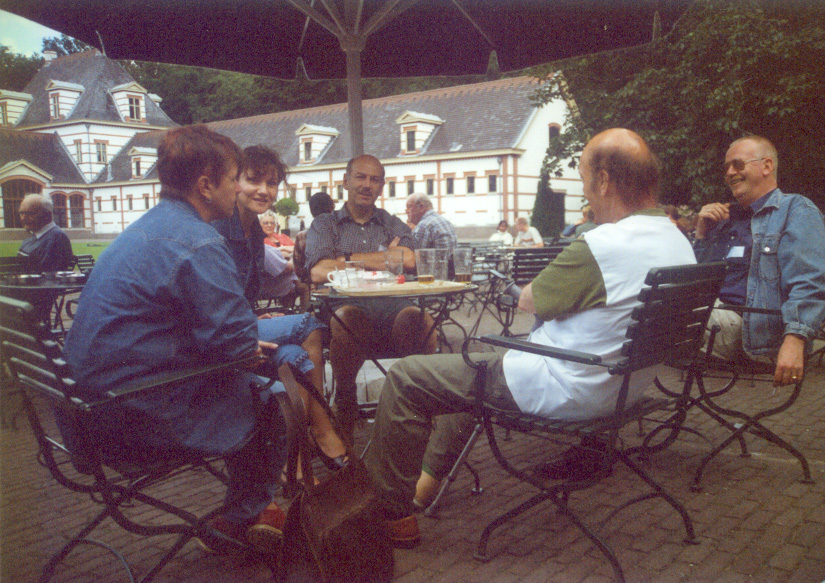 Michelle, Marleen, Leo, Jacques (backside), Jozef Neefs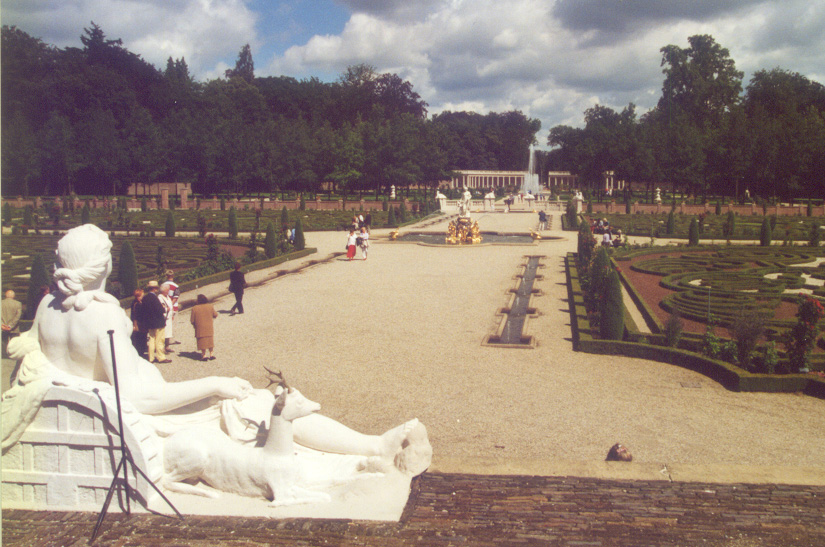 ---
Sabra (Startpage)