To the first Sabra Millennium-meeting (23/12/08 )
Stimulated by and with help from Jacques Vandevelde, Henk Theeuwes, by the Scimweb chaps, by even American Sabra owners, we were busy cleaning, "restorationing", searching for spare parts, worrying and cursing since 1999.
Thirty years ago I found it unfair that those nice two-seater sportscars were almost always driven by grey-haired (if at all) elderly oldtimers to whom the pleasure of driving around in such a car couldn't for certain match the pleasure it would be to the youngster I was then. So twenty-five years ago, with all my savings the cheapest sports-car I could find was bought (and driven in for two years). Later on we needed a reliable car to drive 90 miles a day so the Sabra was put in the garage.
My Sabra, twenty-two years immobilised, standing in my way and (worse) in my wife's way, forcing me to make any repairs to my other cars on the street and in the rain (Belgium) was to ride again before I was older than fifty.
The fact that the week-end of 9-10th September 2000 a BIG millennium meeting for Sabra's, and Sabre's was planned in Reims was the ultimate stimulation, a champagne champaign, I had to be there.
The 3th of August faint-hearted to the M.O.T.......:passed without problems.
Immediate reservation for the millennium meeting through Jaki & Tony Heath of the RSSOC: Reims here we come!
Each next trip with the Sabra revealed more trouble and problems to be solved. Never worked so much on a car as August 2000.
September, trouble in France started, traffic blocs, petrol problems, how many jerry-cans can be put in a Sabra booth???. But finally came Jaki's message that they didn't dare take the risk of getting stuck in France and that the meeting was to be held in Belgium (still "on the continent") in hotel Clio in Sijsele near Bruges.
Saturday morning, an early start, just in case, and we soon met Tony & Jaki, Jacques Vandevelde and André & Carine Delouvroy.
After a chat we drove off for a ride in the neighbourhood, we ate a snack in Damme, visited the sand sculptures in Zeebruges. Tony en Jaki drove a borrowed Sabre-six ( six-in-line, nice sound). Jacques brought his "full-option" Sabra. André with mercedes (the Sabra not being ready) didn't fit in the picture (who pays attention to a mercedes?).
The evening, back in Hotel Clio, first: zoom (carspotting) and then a fondue and a chat.
Jacques was inspired to make a route-description for the next day.
Sunday 10/09 wonderfull day, had breakfast while several other English guests with classic cars polished their chromes and were getting their engines to run. (Thirty years before the Sabra getting an engine to run was much of an adventure).
We dropped the top and took off towards Lichtervelde where Tony admitted that Belgian White (beer) could match champagne (the latter being far away and the former within reach).
Small winding roads took us further south to the Hill Country where we proved that a 30-year old car can climb a steep hill... the restaurant was on the summit, temperature also, the meal as well.. Visited a WW1 cemetary and finally drove to Ypres. Here we watched the start of a Classic Rally from Ypres to Italy ! ! and we met Geoff Cooper, another Sabra owner, who participated with a Scimitar Coupe.
Some tasty beers later, we split and Els and I went to have a look at André's Sabra; (discovered what had been on the alu-plate next to the cupper SN plate on the Sabra - very readable on André's Sabra), and back home. Had (the two of us) a wonderfull weekend (kids can't come along in a two-seater), to be repeated.
See you,
Jef Neefs
And some pictures
left to right Jacques, Els, Carine,Jef, Jaki, Tony "The Kemmelberg".
Had the original steering wheel welded, but it broke again.
at the sandsculptures: left to right André, Carine, Tony, Jaki, Els, Jef
Tony en Jaki at Hotel Clio's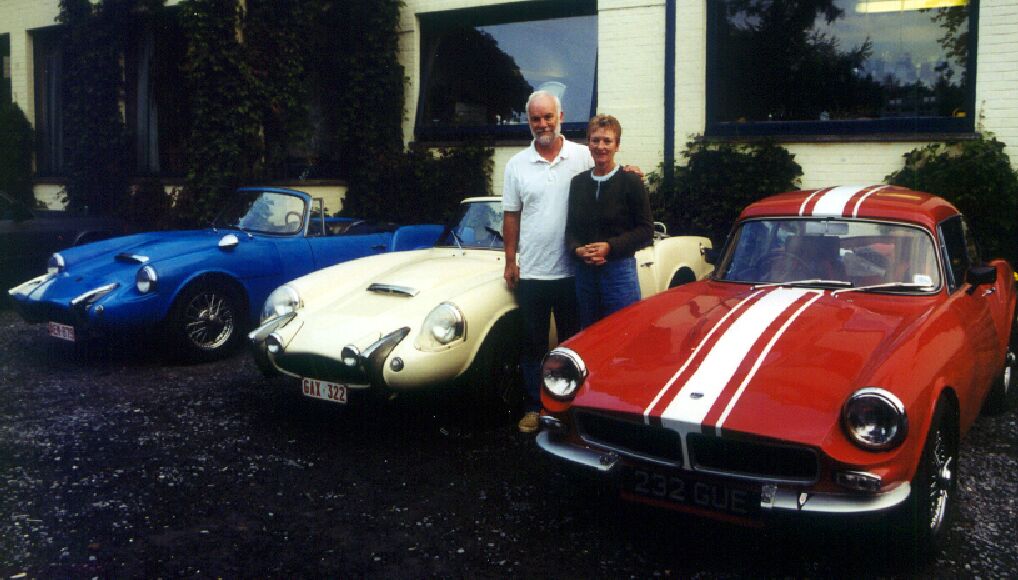 left to right Jef, Els, Jacques, Carine, Jaki, Tony in Lichtervelde "Where Belgian White tastes like champagne""