Meeting 13/04/2002 (23.12.2008 )
---
Organiseerd by Dutch-RSSOC
Rob & Sjaan Storsbergen organised this year the spring-rally for the Dutch-RSSOC.
Jef Van Lommen and Leo gave a forfait for this meeting. The wonderfull flower-power meeting of last year in mind we definitely wanted to attend to this meeting and with Jacques at least two Belgian cars drove to the Dutch meeting. Jef and Leo missed a wonderfull day in South-Holland and Sealand.
Hood down and on the road, nice weather, still a little cold in the morning but real Sabrista's don't mind a little wind and as the sun got higher we certainly had "convertible-weather.After 110 km we prosperously arrived at Expo Haringvliet.
Stop in Brouwershaven, terrace in the sun, ate a bite, had a chat, had a beer
All along small villages, small roads, every now and the a steep climp and wonderfull views of the sun and the sea, small ships.
Still in Zierikzee a brake-down, wonder when we're ever gonna attend a meeting without one or another car brake-down... clutch-cable, pitty this must happen just now.
On to Grevelingen, a coffe and some chats.
Back home one eye on the road, one on the fuel-gauge. Still we made it 340km. And Jacques made an extra 100... quite a difference in fuel-consumption between a stage I and stage II.
A nice day in the sun, nice small,quiet roads thanks Sjaan en Rob, no turn missed thanks Dutch RSSOC.
Till next year!
Didn't take my camera; but Erik Hofman provided us with some pictures, thanks Eric:
All English cars but the Sabra's haven't yet arrived:
When Eric gives us some pictures his car cannot be forgotten:
Indeed the Sabra's were there!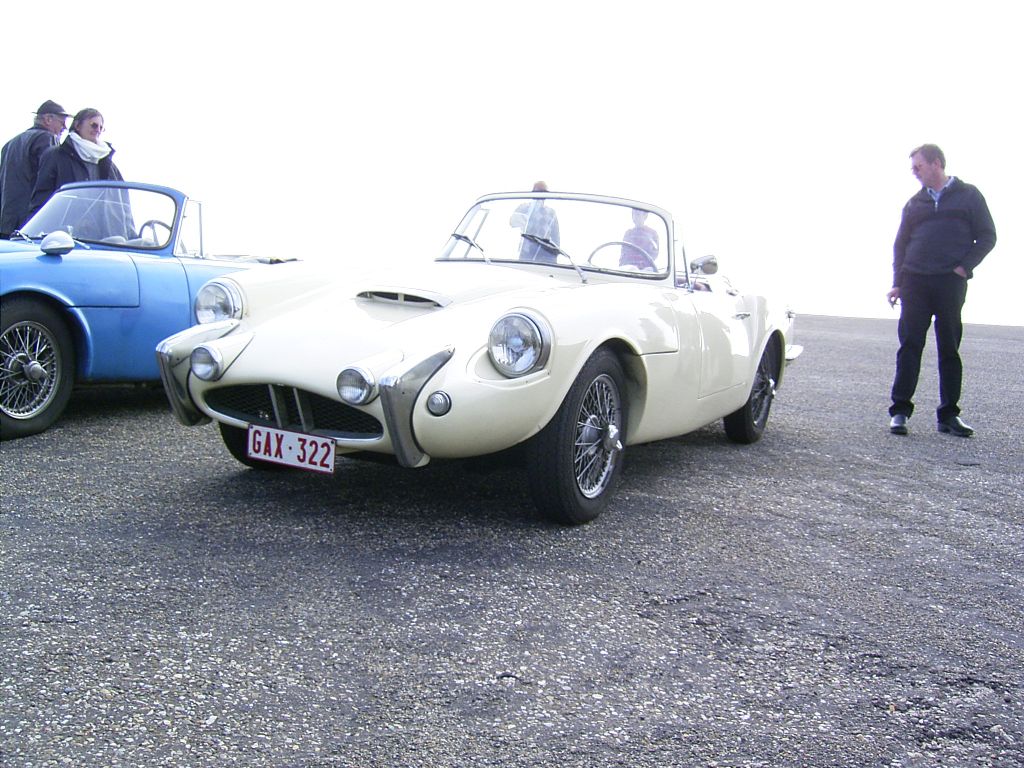 ---
Sabra (Startpage)